Ahhh, back to good old days of blogging. Finally I'm sitting in my favorite place in front of my system E-jotting down my experiences. Soooo first things first. Lemme start with Sakleshpura railway trek also popularly termed Green route trek.
The trek to Yedakumeri (also Edakumeri) has been one of the best treks that I have ever done. It had an element of surprise, slippery bridges, and really eerie tunnels full of Bats, Green forests, waterfalls, rivers and not to forget the best of streams. Wow what an experience.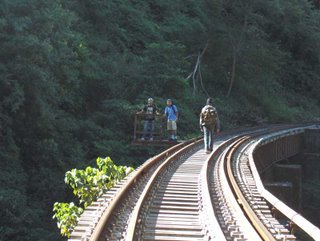 Since there's already enough info on this trek on the web, my purpose of this page is not so much of a travelogue, but to outline the fun we had during this trek. Here it goes in order of occurrence
Jan 20th 2006 (Day before trek)
Most of the planning and preparation was started on the day before the trek. We were a group of six. Vishwas, Sunil, Umashankar, Harish, Naveen and Myself. When it comes to serious trekking its always better to go in small groups as it requires less co-ordination and more fun. Everybody assembled at Majestic bus stand and got ourselves comfortable in the bus.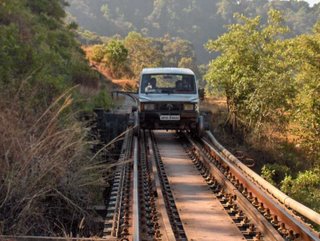 All the passengers couldn't sleep all night as shankr was there with us. His rib tikling comedy was very hilarious that whole of the bus was laughing rolling on the floor, to be more precise on there respective seats. Morning at 04:30 we reached Gundiya, (We had to bribe the bus conductor to stop there) the spot from where we were going to start our trek. Gundiya is some 30 Kms from Sakleshpura towards Mangalore.
Jan 21st 2006 (The day itself)
Tracking in dark
Well it was very cold outside the bus. It took some time for us to get ourselves comfortable. It was very dark and we could see moon on the horizon. And most important of all I saw the best starlit sky I had ever seen. We could make out the outline of mountain ranges backed with a beautiful dark sky. It was indeed a visual delight for city dwellers like us. First 2 km or so was all plain. And then comes the first bridge. As we began to cross it, we realized the challenges that lie ahead! But until much later, we wouldn't know that it'd get only tougher and tougher from there on! As we came to bridge number two, there was a torrential river flowing down under. We climbed down freshened up in the chilling river water and started our journey again. Sun was rising across the horizon and we met few villagers there. We were informed the train service on track would start from the very next day. We were lucky.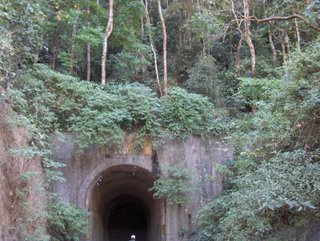 Then we continued further, and the bridges became scarier and scarier - the longer the scarier. More than anything the morning dew had made the planks very slippery; the slippery planks were scaring shit out of us. After setting one foot on every next plank, we were not sure if we would make it without slipping! And it was becoming a problem.
In tunnel No 1, we saw a door on the right side and coming outside that door. We saw a torrential river flowing in the gorge next to the tunnel.
Interesting Trivia: Tunnel 1 and 2 are attached and the door on the right is exactly at the middle of those two tunnels. My observation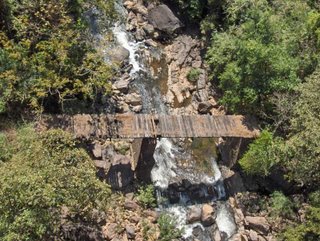 Then came the most beautiful, scariest, tallest and longest of all bridges. The bridge No 20. There was a torrential river flowing down in the gorge. And as if that was not enough, iron strip between the rails was missing at some of the most crucial points. A wrong step would directly take u to the bottom of the gorge. To make the matter worse there was the deafening sound of the river to shake away the crucial confidence that might have left in you. Hmmm finally some how we managed to cross the bridge.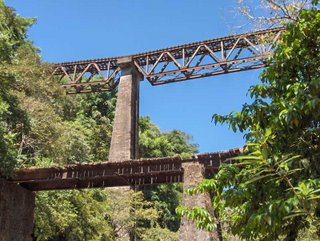 Now comes the best part, Somehow Harish managed to find a way to the river below through the thick jungle. We had a refreshing bath and a swim in the beautiful stream I had ever seen with the old and the tallest bridge amidst thick forest adding to the visual delight.
Yedakumeri Station
Finally we reach Yedakumeri at around 6 in the evening and we planned to sleep in a small room beside platform (There was no door, roof and was filled with mud and cement). We were so tired that Umashankar cleaned the room and started to sleep. After sometime when he woke he was freaked out to see a stray dog comfortable sleeping next to him. Later we found that there was another room uphill with slightly better condition. Well there was a part time construction worker Srinivas who helped us clean the room. Finally we decided to sleep there. We cooked our food in the open space and was fun to do so. We slept in the roof less room watching starlit sky and mountains. We could feel rats moving on us during the nights, we did not mind. But later Umashankar told us that snakes might come to eat the rats. This was something we had not expected and covered our whole body with our bed sheets and went to sleep.
Jan 22ndt 2006 (The Next Day)
I and Harish woke up very early to take a morning stroll. We came across a beautiful water falls few meters from Yedakumeri station. I suggest it would be a very good place to have nice mineral water bath. Also we had to address the nature call. We had to give back nature what we took from it. Hence we started searching for a really secluded spot to finish of the unfinished business. The worst thing about crapping in woods is the insects, it seems that this insect does not have a very good sense of smell and would never let you do your work peacefully.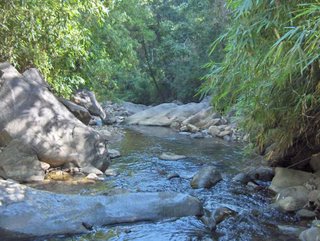 We came across a derailed railway engine few meters ahead from Yedakumeri. They had sent the engine to check the quality of tracks. Later we packed our trekking gear and started our journey towards the main road. We came across an elephant nest and few rivers which we had to cross. We took nearly 1 hour to cross the river.
Later we went to Subramanya temple in Kukke and headed towards Bangalore.
Note: There is a hotel called Bhatt's Hotel in Kukke. They book tickets on behalf of KSRTC. Thou KSRTC office is there at the shrine the officials force us to book the tickets at Bhatt's Hotel at a higher price tag. The Hotel owner is fraud and does this illegally (KSRTC Officials involved). I suggest people going to Kukke book there return tickets in Bangalore itself.
All in all it was one good adventure. Our next trek would be to Kumara Parvatha. Any one interested.